Happy Valentine's month! It's still Februray, so I can do a hearts roundup for the month!
I love looking at heart crochet patterns on Pinterest and on Google searches. I created my first list of free crochet heart patterns in 2017. I wanted to add a few more ideas to the list. All these crochet patterns are linked to my Creative Hearts board on Pinterest, as well as paper crafts and decorative containers for Valentine's gifts. Take a look!
Heart Appliques
1. These boho hearts from Cherry Heart are so cute and quick to make. They can be strung up as a banner or used as a decoration for a gift. Why not make a bracelet or a necklace out of them?
2. This rosy heart pattern has been on the webs for a while, but it is still a great pattern. It would be nice to wear as a pin or brooch. There are also a few videos on Youtube to make a rosy heart, if you need more visual help. Looks liek the original pattern came from Mia's Heartful Hands.
Heart Skin Care/Beauty
3. Scrubbies are all the rage along with handmade soaps and scrubs. Did you buy some scrubby yarn and are not sure how to use it? You can download the pattern from the Yarnspirations website.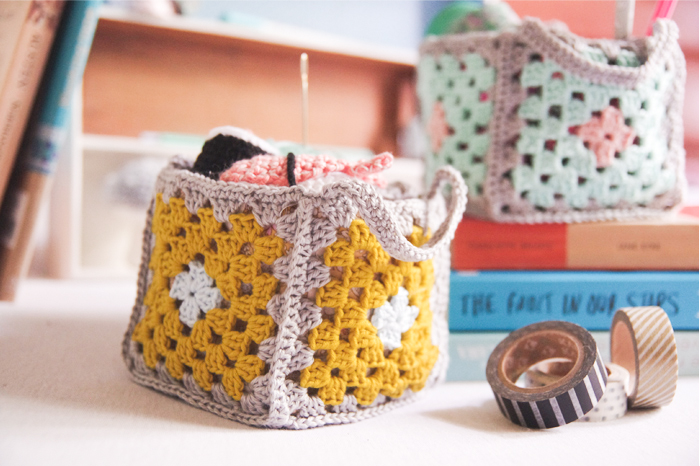 DIY mini granny square crochet baskets
Patten from guest blogger Vika Moka on This Little Street
4. Here's a cute idea for a crochet basket with granny squares from guest blogger
Vika Moka from A Moka Day
. She guest posted on
This Little Street
with this cute basket design. I know this doesn't have a heart on it, but you can make the granny square design into a heart shape with the alternate color. This basket is great to store beauty products or even your current wip.
Heart Home Decor
Conversation Hearts pattern from Sisterly Studios
5. This next section is my favorite. I love me some decorative pillows, and these pillows from Sisterly Studios are so cute! (Paid pattern only on Ravelry)
7. Another lovely crochet pillow, this heart corner2corner pattern from Nana's Crafty Home is a great addition to the creative hearts board.
8. Here's another great pattern for a granny square style crochet heart from Make and Do Crew.
Heart Book Cover
9. On my last post I listed a few bookmarkers. I found this beautiful heart notebook sweater notebook cover. Once I searched notebook covers on Pinterest, I fell into the depths of lovely book covers. This is a great way to personalize a notebook. You can find this crochet pattern on ClaireabelleMakes.
Heart Kitchen
10. I found two dishcloths patterns that I really liked. The hearts dishcloth above are originally from
Mailinn on Ravelry, but the pattern information is in Norwegian. Filetstueck on Ravelry created a inspiration and posted the pattern in English.


BONUS! 11. The last item is a crochet heart doily from NotikaLand on Youtube. This doily is made with thread, but if you make it with cotton yarn it could be made into a nice discloth or placemat. NotikaLand on Youtube.
Check out more of my pins on the Creative Hearts board on my Pinterest!
(One of my pet peeves is not having the correct link on my board or a link that doesn't work anymore. Sometimes the blogger changes their site and moves their posts to the new website. Please let me know if a link doesn't work!)